For the jar:
1 cup brown sugar
1/2 cup mini chocolate chips
1 cup flour
1 teaspoon baking powder
1/4 teaspoon salt
3/4 cup chopped pecans or walnuts
1/2 cup Heath Chips
1 quart size mason jar
To make the Toffee Blondies:
You will need the contents of the jar
1/4 cup melted butter
2 lightly beaten eggs
1 teaspoon vanilla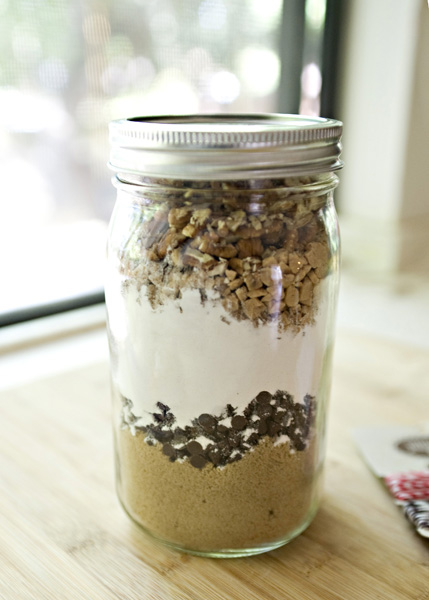 This is what the jar looks like after you layer everything. :O)
To make the Toffee Blondies, melt some butter in a bowl. Whisk in the eggs and vanilla. Pour in the contents of the jar.  Mix it all up.  Pour the batter in an 8x8x2 pan coated with cooking spray. Bake in a preheated 350 degree oven for 25 to 30 minutes or until the blondies are set and start to pull away from the sides of the pan.  Cool in the pan and cut into 16 bars.
For a step by step tutorial on how to make these along with awesome recipes, please visit BakedBree.com  You can also download the gift tags for this recipe :O)  All pictures belong to BakedBree.com